Vertical Cloud Call Manager
Optimized for retailers, Vertical's Cloud Call Manager platform provides medium and large enterprises with voice, high-quality multimedia services and
mobility options — all in the cloud.
Manage Millions of Enterprise Calls in the Cloud
Vertical Cloud Call Manager (Vertical CCM) consists of a range of call servers and gateways to meet a wide range of enterprise requirements. Ideally suited for Retail environments, the highly scalable CCM platform has the ability to expand from 500 up to nearly 1 million ports with 1 million busy-hour call completion (BHCC) capabilities. Compatible with Vertical Wave IP and Vertical Summit communications systems, Cloud Call Manager provides enterprises with 10 to 10,000 remote sites with:

Centralized call management via SIP
Active/Active High availability, redundancy and resiliency
Robust support for Vertical's Retail Applications Suite, including Intelligent Voice Response (IVR), Automated Attendant, Unified Communications, Service Response, Analytics
Specialized large enterprise features including Automatic Call Distribution, Directory Number, Digit Conversion, Mobile Extension and Interactive Routing
Mobility support options including voice, IM, text, paging on iOS, Android and Spectralink devices
Remote store site gateway support options (both Vertical Wave IP and Vertical Summit) for prolonging life of remote legacy systems, eliminating need for store rewiring, supporting all-IP store solution and providing remote site gateway, failover and voice quality management capabilities
Single point of administration for entire Retail cloud solution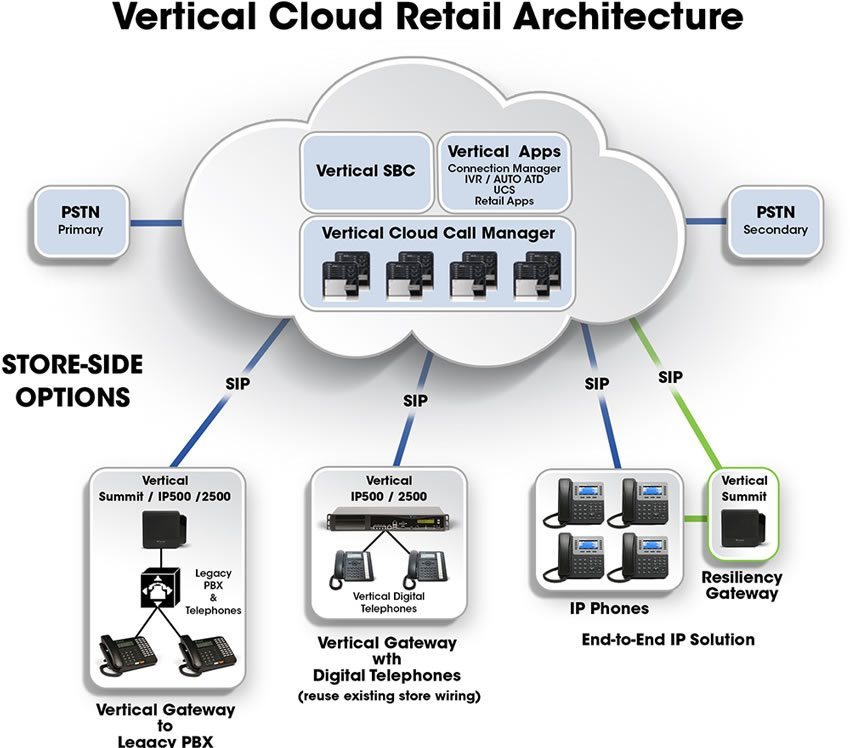 Cloud Call Manager Features
Flexible network architecture optimized for retailers
Vertical CCM features a flexible and simple network design based on a pure IP-based modular architecture. Easy installation with LLDP, auto registration and management via web-based remote/central management, Cloud Call Manager can be used with a mix of digital (T1 / PRI / SS7), analog (E&M, RD, LD, CO) and SIP trunks.

Investment protection and cost savings
Reduce communications and operational costs leveraging internal VoIP calls and centralized SIP call management. Cloud Call Manager offers a wide range of store-side gateway options including SIP/TDM gateway functions, fail-over/survivability and voice quality management capabilities (available early 2016), along with support for high-end video, IP/SIP, Wi-Fi, softphone and mobile clients, as well as existing digital and analog phones.

Maximum reliability and scalability
Cloud Call Manager supports nearly 1 million ports and 1 million BHCC, with almost unlimited scalability by networking multiple servers. Ensure local survivability with a range of options for local call servers or gateways, and maximize service availability with multiple redundancy options, including call server, LAN and power.

Enriched Retail customer experience
Cloud Call Manager provides you with full analytics and BI support features, and interfaces with Vertical's Retail Applications Suite and other third-party business communications applications and solutions to streamline and enrich customer interactions, and improve customer service.
Vertical Cloud Call Manager — Retail Store Side Solution Options
Solution
SIP/TDM Gateway
Local Failover/Survivability
Voice Quality Management
Local App Server
Reuse Digital Phone Wiring
No Costly Router Upgrades Required

Vertical Summit Gateway

SIP gateway to legacy PBX, with failover and Voice Quality Management (VQM).*

Wave IP 500/2500

Includes Summit features plus App Server and Vertical Edge digital phones. No need to re-wire for IP phones.

Edge IP Phones & Summit Gateway

Full "end-to-end" IP solution with Vertical Edge IP phones, failover and VQM.