Hosted Exchange
Cloud-based Microsoft Exchange business email from the world's largest independent provider.
99.999% uptime guarantee
Unlimited email storage
Facilitates compliance with HIPAA and other regulations
Lower TCO as compared to on-premises Exchange
24/7 support + free migration performed by our experts
Hosted Exchange service details
Why move to the cloud?
Capital savings and ROI benefits
Avoid capital expenditure. There's no hardware to buy or software to license, so you don't need to sink your capital into on-premise infrastructure.
Make your costs more predictable. Intermedia's services let you consolidate your expenses into simple, monthly per-user fees.
Reduce your opportunity costs. By freeing your IT staff from maintenance, they'll be able to stay focused on the value they add to your business.
Lower your power and Internet bills. With less need for on-premise servers, you'll use less bandwidth and lower your electric bills.
Improve your revenue per square foot. Shifting servers into the cloud frees up the real estate you've dedicated to on-premise hardware.
Security and business continuity benefits
Ensure the reliability of your systems. Our datacenters possess extensive electrical redundancies, multiple Internet connections and comprehensive data backup strategies.
Keep your business data safe. Our datacenters far exceed the physical security standards most businesses could achieve on their own.
Protect yourself from digital threats. Beyond our McAfee anti-spam and anti-malware tools, we monitor our network 24/7 to protect your data and services.
Simplify business continuity. Your company data can be accessed from anywhere, at any time, which simplifies disaster planning and recovery.
IT and business agility benefits
Extend Fortune 500-style communication and collaboration tools. Empower your people with the latest and most powerful business software.
Stay secure and up-to-date. We perform upgrades and patches to keep you current without any effort on your part.
Make your company more mobile. You can access your cloud via desktop apps, the web, or with iOS, Android, Blackberry and other devices.
Synchronize data across different devices. A user's work on one device is automatically synced across every other device.
Develop a hybrid cloud solution. We offer tools for maintaining elements of your infrastructure on-premise, if you choose to do so.
Add users and services on the fly. It's simple to scale your business to bring on new employees, locations, and tools for doing business.
Service and support benefits
Receive free onboarding and migration. To simplify your transition to the cloud, our experts set up your cloud environment and move over all your users and their data.
Rest easy with 24/7 phone and chat support. No matter what time you need us, we'll typically answer your calls within 60 seconds.
What is Hosted Exchange?
In the past, Microsoft Exchange was deployed on-premises. This meant you needed to buy a server, pay for licenses, and hire an IT person to install and maintain it.
With Hosted Exchange, your Exchange server is installed and managed in the cloud, as a service, with no fees upfront. You get all the functionality of Exchange with none of the overhead. Intermedia performs all installation, maintenance, upgrade and support activities on your behalf for a predictable monthly fee.
Intermedia customers can choose between two versions of Exchange.
Exchange 2013: Cutting edge look and feel • Designed for mobility
Exchange 2016: Enhanced collaboration • Optimized mobile apps
What's the difference between Exchange and Outlook?
Many people think Exchange and Outlook are synonymous. They're not. Outlook is the program you use on your computer to access your email, calendar and contacts—which is powered by Exchange. And while you can actually use virtually any email client with Exchange, Exchange unlocks Outlook's most sophisticated productivity features
Productivity features
Microsoft Exchange's productivity features include calendars, contacts, tasks, notes, public folders and more.
Calendar features of Hosted Exchange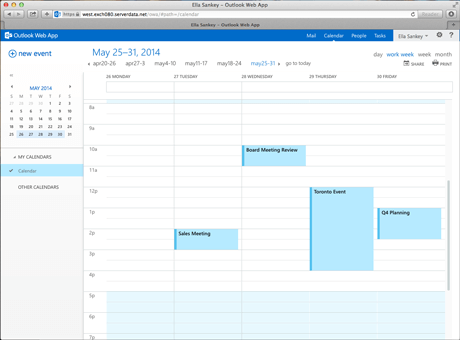 Share and sync your organization's calendars
See your coworkers' availability
Share your availability with your coworkers
Easily organize large meetings without multiple rounds of back-and-forth
Authorize assistants or other team members to manage your calendar
Manage your own schedule
Schedule meetings or appointments with others
Create one-time only or recurring events
Set reminders so you never miss a meeting
View your tasks for the day
Organize your events by color-coded categories
Search your calendars to find a past or future event
And much more
Contacts features of Hosted Exchange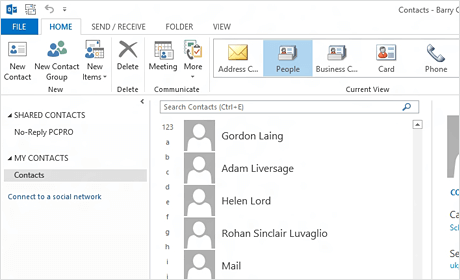 Exchange contacts let you manage the contact information of individuals or groups with whom you interact. It lets you:
Share and sync your organization's contacts
Sync your contact list with your business's Global Address List
Receive new contact information automatically, as it becomes available
Sync contacts lists with other coworkers to easily collaborate with customers and partners
Create contact groups and distribution lists to easily communicate with many people
Forward contact information to others with just one click
Flag contacts as 'private' so they aren't shared across your organization
Manage your own contacts
View contacts from multiple address books in a single pane
Add detailed information for all of your contacts
Add notes about individual contacts to remember your history with them
Open up a web-based map to a contact's location with one click
And more
Other Exchange features
Tasks
Exchange lets you create to-do lists with tasks that you can assign to others and share with teams or individuals.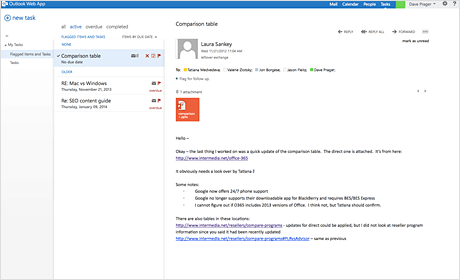 Notes
You can use notes to keep track of your thoughts. With Exchange powering your email, your notes are actually stored in the cloud so you can view and edit them on all your devices.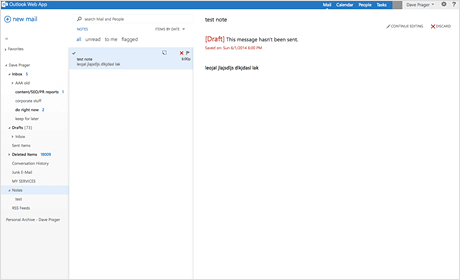 Resource Mailboxes
A Resource Mailbox represents a shared company asset, such as a conference room or a portable projector. They let you easily manage scheduling and sharing using your Outlook calendar. This makes it simple to see if a room or some equipment you need is available when you need it.
Public Folders
Public Folders create a repository for shared files and documents within Outlook. Administrators can assign access to specific users or groups, which helps teams and departments easily access knowledge and collaborate on documents.

Integration with Salesforce
No more switching between Outlook and Salesforce throughout the day. Enjoy improved productivity with two-way integration of your emails, leads, contacts and calendar between Outlook and Salesforce. Start saving time now! Salesforce integration is available at no additional cost to new and existing customers.
Mobility features
On most devices, it's simple to set up your email, calendars and contacts. You don't need to call your IT team or type in confusing server information. Instead, you just create a new account and your device sets up and syncs.
Sync your data across all your devices
Intermedia's hosted Exchange includes ActiveSync technology at no additional charge. ActiveSync ensures that virtually no matter which device you use or what activities you perform, your email, calendars and contacts are in sync and up-to-date.
Get remote wipe capabilities and other protection features
What happens if a user's device is lost or stolen? With Hosted Exchange, an administrator can remotely remove critical company data, or even deactivate the device's ability to receive company email. You can also enforce account- or user-specific security policies, including enforced passcodes.
Access Outlook from any web browser
With the Outlook Web App, you get a full-featured, web-based version of Outlook. It provides the Outlook experience for email, calendars and contacts without requiring a download. Your changes are synced.
With Exchange 2013, OWA is optimized for a touchscreen experience plus offline access.

BlackBerry® hosting is available
With BlackBerry® hosting, you get two-way, real-time synchronization of your email, calendar, contacts and tasks between your BlackBerry® and your Intermedia hosted Exchange service, with no additional hardware or software to purchase.
Unlimited storage
One of the biggest challenges of any email infrastructure is capacity planning. It's very challenging for organizations to forecast their growth in order to plan for future storage needs. In an on-premises environment, this creates headaches for operations and procurement. But it's also a challenge presented by cloud providers that limit the size of user inboxes. It forces you to make a tough choice: do you provision mailboxes conservatively, which will save money but handicap your power users? Or do you spend money to enable your edge users, knowing that you're paying more for the average user than you have to?
Intermedia's Hosted Exchange eliminates this conundrum by offering unlimited storage. Users never have to worry about the size of their inboxes. Instead, they can use their email as a versatile tool that adapts to their individual preference and style, free of any constraints.
Compliance
Hosted Exchange and other Intermedia services are designed to meet many privacy and security requirements. One example is for Protected Health Information (PHI). Our policies, procedures, technologies and services are audited by an independent party to validate conformance with HIPAA privacy and security requirements, and Intermedia will execute a HIPAA Business Associate Agreement with Covered Entities.
If you choose our Compliance and Security Plan, you receive high-security email, file sharing and web application security tools. Everything you need to succeed in today's regulatory environment from encrypting sensitive correspondence, proposals and research to collaborating on due diligence with private room access controls for documents. All available to your team whether they're in the office or on the road, with full support for mobile devices.

Company disclaimer
As legal and compliance risks grow, Intermedia's Company Disclaimer add-on is an effective way to help enforce a company-wide email policy. It helps ensure all your outgoing emails conform to your legal and corporate policies by letting you append information to email sent outside of your own business.
Company Disclaimer is managed through HostPilot, the same control panel you use to manage all your Intermedia services. It's simple to deploy, maintain and update.
Flexible options and styling
You can easily edit and format your disclaimer. This includes choice of font, color, size and additional formatting options. You can also add Active Directory user attributes such as Display Name, First Name, Last Name, Department, Company and more.
Non-changeable by end-users
To facilitate compliance with policies, individual end users do not have the option to edit or remove the disclaimer from their emails. Company Disclaimer can be added to any Hosted Exchange plan for a nominal fee.
30+ integrated services
Email is just the start: There are a number of IT services that you need simply to do business. As the foundation of Intermedia's Office in the Cloud, Hosted Exchange lets you integrate all these essential services from a single provider. We manage integration, security and mobility so your users and admins stay focused on business.
When you get your IT from a single source, you create significant efficiencies. Choose Office in the Cloud to free your admins from endlessly logging into and out of control panels all day long—and give them the freedom to focus on what really matters.
License mobility
Microsoft's License Mobility program makes your move to the cloud even more economical.
Historically, Microsoft didn't allow you to use your on-premises volume licenses in the cloud. So you had to buy additional licenses to move to the cloud, making the move expensive for you.
However, Microsoft's License Mobility program lets you deploy your current Exchange and Skype for Business licenses at a Microsoft Authorized Mobility Partner's datacenter.

Intermedia can accept your licenses
As a Microsoft Authorized Mobility Partner, Intermedia can receive the transfer of your Exchange or Skype for Business Software Assurance licenses, letting you move to the cloud without needing to purchase additional licenses.
In return, we transfer these savings to you via a discounted per-user price on many of our plans.

Do you qualify for this program?
Microsoft's License Mobility program is available to its Volume Licensing customers (Server and CAL licenses under Open, Select or Enterprise Agreements). Intermedia can accept Exchange or Skype for Business licenses when they're covered by active Microsoft Software Assurance (SA) contracts.
If you meet these criteria, you are eligible for the discount.  If you're not sure about the status of your SA contract, there are three ways to find out:

Ask your IT or license procurement teams
Contact your Microsoft representative or preferred reseller
Tell us your Microsoft enrollment number so we can look it up for you on your behalf
If you would like to know more Microsoft License Mobility, visit their web site.

Next steps:
If you're already an Intermedia customer, contact your account manager to discuss transferring your licenses.
If you're a new customer, request a custom quote that reflects the value of your licenses.
What's new in Exchange 2016
As the latest version of the world's most popular business email platform, Hosted Exchange 2016 allows users to communicate and collaborate more effectively regardless of location or device—so productivity is never an issue.
Use the latest version of Exchange
Exchange 2016 delivers enhancements to email, calendars, contacts, Outlook Web App and more. Helping your employees to collaborate and communicate more effectively than ever before.
Enhancements to Exchange 2016 include:

New Outlook web experience
Enhanced mobile browser experience
Faster and more intuitive search
And more
Enable on-the-go productivity
Business is no longer confined to the office. Exchange 2016 is designed specifically for touchscreens, mobile usability and offline productivity. It helps ensure your employees can be efficient regardless of location or device—even when they're offline.
Intermedia's legacy of "firsts"
Intermedia has been first to market with every version of Hosted Exchange since 2000. We were the first cloud company to offer Hosted Exchange in 2000 and first-to-market with Exchange 2003, 2007, 2010 and 2013. We were also the first to offer private-label Hosted Exchange.
24/7 expert support
Our engineers work behind-the-scenes to keep your cloud performing at the highest levels. This ensures that nothing distracts you from growing your business.
But should the need arise, our support philosophy is simple: we're here when you need us. And we respond to you, fast.

Here's what you get with Intermedia's support:
Expert phone support

Business apps support: 100% Microsoft Office Specialist certifications for T1 team members
Business apps support: T2 team members are 100% certified, with certifications ranging from Microsoft Certified Solutions Associate (MCSA) to Microsoft Certified Solutions Expert (MCSE)
Voice support: 100% CompTIA Net+ certification within first year of employment
Voice support: 100% SIP School certification for all Escalation/T2 team members

All-hours availability
24/7 phone and chat support is included in most plans.
Short hold times
We typically answer the phone in 60 seconds or less. (This level of service beats executive support at Fortune 500 companies.)
Commitment to resolution
Unlike other providers, we won't push you to self-help solutions. We'll stay with you until we resolve your problem.
No 'critical issues' standard
Unlike other providers, we don't enforce a threshold for phone support. Admins can call us for help with any issue.
No lock-in to a single person
Your account history is available to the entire support team. Each of us has the context to solve your problems.
Commitment to quality
We don't pressure team members on call length. All our key metrics are related to first-call resolution and customer satisfaction.
Obsession with satisfaction
We'll survey your satisfaction after every call. And we'll contact you every six months to get your feedback.
No outsourcing
Every team member is a direct employee. Our overnight support office is manned by English-speaking team members whose certification and problem-solving ability equals our daytime staff.
Senior technicians are available
If you have a highly technical challenge, feel free to request a Level 2 support technician.
Going beyond individual cases
You can request a 90-day review of all your support cases to identify and eliminate recurring issues.
99.999% financially backed SLA
Intermedia believes in giving our customers the best service possible. So we provide your business with a financially backed 99.999% (five nines) uptime service level agreement for all our services.
A 99.999% uptime SLA means that you should expect less than six minutes of downtime over the course of a year—and, if we should fail to deliver, we'll compensate you for it.
Our competitors—including Office 365—only offer a 99.9% uptime guarantee. That's just three nines. And while that difference may not seem significant, the difference actually amounts to downtime of over 8 hours.

Availability %
Downtime per year
99.8%
17.52 hours
99.9% ("three nines")
8.76 hours
99.95%
4.38 hours
99.99% ("four nines")
52.56 minutes
99.999% ("five nines")
5.26 minutes
Source: Wikipedia, "High Availability"
How would your business suffer if you couldn't communicate with your customers or coworkers for a whole day? Or even half a day? With Intermedia's five-nines uptime guarantee, you won't have to find out.
How do we guarantee five nines availability?
We architect our cloud specifically for reliability, performance, and data protection.
Enterprise-class security
Our business is predicated on our ability to offer a more secure environment than our customers could deploy themselves on-premises.
Multi-tenant platform security
Intermedia uses multiple redundant, enterprise-class firewall systems to prevent unwarranted intrusions.
Intrusion protection systems
Intermedia runs multiple intrusion protection systems (IPS) (both host and network) to detect and deter malicious network traffic and computer usage.
Physical security
Our datacenters are closely monitored and guarded 24/7/365 with sophisticated pan/tilt closed-circuit TVs. Secure access is strictly enforced. Security guards are stationed at the entrance to each site.
Employee security
Every Intermedia employee undergoes a rigorous background check. Employee access to passwords, encryption keys and electronic credentials is strictly controlled. Access to servers is restricted to authorized engineers and monitored regularly.
Redundant internet service providers
Each datacenter is serviced by multiple Tier-1 Internet providers to mitigate the potential impact of a Denial of Service (DoS) attack.
Authentication and access
Intermedia's stringent policies and procedures authenticate a caller's identify during support and service calls. Our online control panel gives you full control over access to services and administrative functions.
Dedicated security staff and monitoring
Intermedia employs dedicated, full-time security staff who are certified in all disciplines of information security.
Privacy
Intermedia is registered and certified with the US Department of Commerce for privacy under the Safe Harbor program.
SOC 2 Certification
Intermedia has a SOC 2 audit report from an independent auditor who has validated that, in their opinion, our controls and processes were effective in assuring security during the evaluation period.
PCI compliance
Our payment processing system has passed the strict testing procedures necessary to be compliant with the PCI Data Security Standards (PCI DSS).
Cloud Concierge™ Onboarding
The hardest part about moving your IT into the cloud is retaining the value that's invested in your current system
Most cloud providers force you into a DIY migration path or "recommend" hiring a migration consultant. But Intermedia is different.

Our Cloud Concierge™ experts implement a custom migration plan to move your existing users and data into the cloud with minimal interruption to your business—at no extra cost. We migrate an average of 15,000 mailboxes and over 5,000 phone numbers to Intermedia each month, so you know you're in good hands. Our Cloud Concierge onboarding experts are certified by Microsoft and Cisco, along with other product-specific certifications like SSVVP/SSCA and Sonic Wall. And they routinely complete training courses to increase their knowledge and skills.
Hosted Exchange
Our Cloud Concierge experts will work with you to:
Design an email migration plan that fits your schedule to reduce disruption
Set up your email accounts
Migrate your existing data
Shift your employees over to the new email service seamlessly and without loss of data
Hosted PBX
Our Cloud Concierge experts will work with you to:
Test your network to make sure it can properly support high-quality calls
Work with you and your service providers to optimize your network, if needed
Set up your Hosted PBX service
Port over your existing phone numbers
Ship your new phones
Provide training for using your auto-attendant, creating and managing users and call lists, deploying Callscape, and leveraging other mobility features
Email Archiving
For migrating existing data, you have a number of options:
Currently an Intermedia Exchange customer? We'll port your current mailbox states into Intermedia's Email Archiving at no cost.
Currently using Intermedia's Message Mirror? We'll migrate and ingest your full data set at no cost.
Currently using another archiving solution? We'll migrate and ingest your full data set for you.
SecuriSync® backup and file sharing
Want to sync a file server up to SecuriSync? Just use our SecuriSync for Windows File Server sync tool to:
Install the tool on your file server
Decide whether to sync all or a subset of the files to the cloud, or
Migrate all the files to SecuriSync in case you no longer require the server
Intermedia Office Apps
Enabling Office apps for your users is easy. Simply provision your users for Office apps in HostPilot and then instruct them to log in to My Services and install the apps. Our Knowledge Base provides all the details, including installation and login instructions for your users.
Intermedia AppID®
Our Knowledge Base provides all the information you need to quickly enable AppID for your users. We provide an Admin guide that shows you how to provision users and add custom apps to the service. And give you an end user guide for your users that shows them how to add apps to their portal and use AppID to access those apps.
Powerful control panel
Every Intermedia service is managed through our powerful HostPilot™ control panel.
HostPilot integrates control over your Intermedia user accounts, services and devices across your locations. It essentially functions as a "business cloud platform"—making your cloud simple to manage while still offering granular control that matches an on-premises environment.

Control over services
Easily add other Intermedia services (such as SecuriSync file sync and share or Skype for Business)
Accept or reject user service requests
Review logs of all changes for transparency
Control over devices
Manage a wide range of mobile devices
Set security and management policies for virtually all your mobile devices, including passcode enforcement, data encryption, etc.
Perform remote wipes on lost or stolen devices
Restrict devices from accessing Intermedia services
See all enabled devices across your organization
Control over user accounts
Add, delete or modify user accounts for web applications
Change user settings, distribution lists, company contacts, disk space and much more
Set up multiple levels of administrators
View detailed exportable reports of your account activity, down to individual transactions
Empower users to self-administrate (see below)
Sync with your on-premises Active Directory (via our UserPilot service)
HostPilot mobile app
Our HostPilot mobile app lets you control your Intermedia cloud using your iPhone, iPad or Android device. It's free and available in Google Play or the Apple App Store.
My Services: Our user control panel
The My Services portal lets each Intermedia user perform simple administrative activities. This includes changing passwords, requesting new services, or downloading desktop applications. My Services helps eliminate many of the routine requests that distract admins on a daily basis.