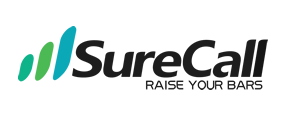 Boost the cell phone signal in your Home
Boost the cell phone signal at the Office
Boost the cell phone signal in your Car
Public Safety signal boosters
How do cell phone boosters work?



Signal boosters capture nearby cellular signals, amplify them, and broadcast the stronger signal to eliminate dropped calls and slow data speeds for cellular device users. Whether you need better cell phone reception for AT&T, Verizon, T-Mobile, Sprint, or any other major US provider, SureCall has you covered.
Better Cell Signal. Where you need it. When you need it.
Like you, we appreciate when things perform the way they're designed to perform. Take your new cell phone, for example. You know the one, with all the promises to deliver outstanding coverage and reliable service. You think to yourself 'It's going to be so good!' and then it isn't… Sound familiar? We hear you. We don't think it's asking too much for a product to deliver on its promises.
So, if being out of range without service is simply not an option, look to SureCall. As self-declared 'technology geeks', we specialize in providing peace of mind and reliability when it comes to your cellular signal. Using our patented and award-winning signal booster technology, you can expect your phone to work whenever and wherever you need it.
Since 2001
, SureCall has been improving cellular reception, sound quality, data speeds and reliability, all at an affordable price. We design and manufacture FCC-approved cell phone signal boosters and accessories for businesses, homes, public safety, vehicles and watercraft. Enhance the range and reception of nearly any cellular transmission while also improving 4G LTE data speeds with our innovative line of products.